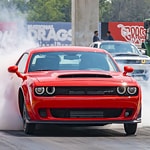 If you'd like to add a new sports car to your driveway or garage, the Dodge Challenger will not disappoint. This popular muscle car has power, style and features that you're sure to love, and you can test drive one today when you visit with the team at Faulkner Chrysler Dodge Jeep Ram FIAT.
The low, powerful profile calls up images of the traditional American sports car. Single- or dual-opening air intake ports on the top of the hood act as further testaments to the Challenger's race-inspired roots.
The agile chassis can be embellished with badges, logos and other details that are dependent upon which amenity package you decide on. You'll also have your pick from a color palette that's far more diverse and interesting than the choices that are available for many other vehicles.