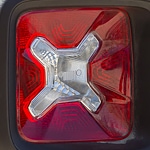 How would you like the ability to choose the wheels that make up the vehicle you will drive around everywhere you go? That is what the 2020 Jeep Renegade offers among other things. The standard option for wheels are the 16-inch styled steel wheels. There are also 19-inch polished and painted granite crystal aluminum wheels available on select packages.
Many other things about the 2020 Jeep Renegade exterior make it pop. There is the front fascia that is designed with grille openings in just the right spots to make it stand out as an amazing machine. It gets the attention of everyone it passes by, and it is great for taking on grand adventures out in the wilderness. It is difficult to find a better combination of power and beauty in any other commercial vehicle.
Finally, check out the LED lights on both the headlights and the taillights on this machine. It will dazzle you and make you never want to drive anything else.